Can I be fired for going to rehab?
"I was so scared to open the email I got back, I left it unread for 2 weeks."
Depending on where you are in the world, the answer to that question changes. Addiction and mental health have varying levels of stigma worldwide, but anecdotally from what our clients share, their jobs are in most cases quite safe.
Take Ross, a Toronto-based architect. He was terrified he might lose his job after he emailed his CEO about his addiction. His job was part of how he defined himself. It accounted for two decades of his life in education and work hours.
He felt his reputation was at risk. His work might be called into question. He may lose his job, and put himself at risk of never getting another one.
"I finally opened the reply, and it simply said –
'Hi Ross, I trust your judgement so if this is where you need to be for another month then I don't doubt your decision. Consider the leave approved. Focus on your recovery. We will see you when you're back home in January.'
Ross says "a total weight was lifted. This is part of what I'm learning in rehab. I catastrophize, I feel overwhelmed, then I drink or take painkillers and sleeping pills to escape, then things get worst and I do it all again.  It doesn't help me or the people around me. I'm learning how to be more honest."
"I had a car accident and the prescribed painkillers... well they became too hard to stop. I already had anxiety and when I couldn't get more painkillers I started drinking. It all culminated into a very bad addiction that meant I started lying to work regularly.``
How do I tell my work I'm going to rehab?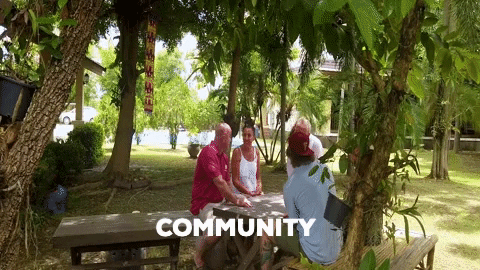 Many people choose to take annual leave or unpaid leave without informing their workplaces straight away.  This enables them to recover first, and share this information in their own time, on their own terms.
In some instances they choose to never share that they were in rehab. This is perfectly fine too. Every person and their circumstances are different.
In the case of Ross he chose to come to Lanna Rehab, spend 2 weeks of annual leave and get some advice from his therapist.
"Addiction is a very isolating experience for most people. Essentially you lie to hide the extent of your use," says Dr. Hanan J Whelan Al-Said.
"As a result relationships suffer. That includes workplace relationships. People can make up quite elaborate excuses for coming in late or missing deadlines. But, it's important to remember all is not lost and you can rebuild your life."
Dr. Hanan has worked in addiction for close to three decades and offers therapy in English, Arabic and Swahili. Her diverse experience means she has witnessed people make different choices with their workplaces.
"Everyone is unique with unique circumstances so there is no one-fits-all answer for 'how to tell your work you are going to rehab'.

Dr Hanan notes there are many instances over the years where she has supported clients in their decision to inform workplaces,  "if you, with your therapist's advice decide to tell your work, there are a number of ways we can support you."
How should I tell my boss I'm going to rehab?
While clients are undergoing care you can choose to nominate your therapist to speak to your loved ones. That includes communicating with your workplace. These communications are only with the express permission of the client. This means it only take place if the client requests that it happens.
"If we were to talk to anyone – family, friends or workplace – about a person's treatment we get their permission in writing."

Dr Hanan says it's about transparency and "it's about putting the client's treatment first. We abide by the same general confidentiality other psychologists worldwide do, so we have trust with our clients."

In Ross's words "I wanted to tell my CEO I was in rehab, so I could take extended leave. I had lied a lot about my drug use and I felt like the only way I would ever be able to return was if there was some honesty there."
Ultimately Ross made the decision because "It was causing me so much anxiety to keep the lie it was going to impact my recovery. I have worked there for a long time. I have only been using painkillers and drinking for a quarter of that time but my mental health hasn't been exactly great for longer. I think that no matter how well I thought I was putting on a front they probably suspected I wasn't well."

Addiction is worst when I work
Ross says, during his time at Lanna he's a learning how the stress from work triggers his addiction. Time away is giving him the clear head he needs to recover. He is learning new skills to manage stress.
"I'm not alone because I'm here with other people from around the world who are in the same boat. We might each use different things but we all have recovery in common. One guy in here has a sleeping pill addiction. I had no idea that in itself could be an addiction until I met him, and heard him talk, and listened to him.

Ross says sharing details and shame helps with healing, "I am doing really well here. I know that I can live a happier life. I'm barely 40-years old so I have a lot ahead of me and this darkness is subsiding."
Ross expects challenges ahead, whether they are pressures from work or otherwise but he says "I know addiction is not something you cure but I am learning skills here to overcome.

I know when to ask for help now without feeling shame."